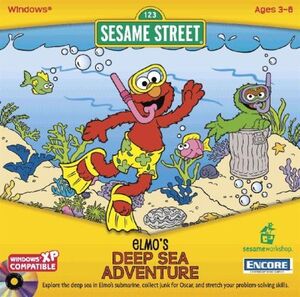 Elmo's Deep Sea Adventure is a Sesame Street CD-ROM game for home computers. The game was developed by Mattel Media in 2000 and re-released by Sesame Workshop in 2005 and again in 2006 by Encore Software. Elmo invites users to join him on his deep sea submarine to explore shipwrecks, sunken cities and lost treasure. Oscar, Grover, Zoe, Rosita and Telly also appear. Skills such as critical thinking, problem solving, and decision making are taught in 3 play modes, 5 activities, and 2 levels.
Contents
Help Zoe find a swimmer who needs to get out of the water.
Bring lost treasure to Oscar's lab.
Match sea-creatures in Rosita's sea cave.
Investigate marine objects with Elmo.
Help Miss Octopus plant seeds in her garden and grow all the vegetables she needs for her recipes.
Replace tiles of the correct shapes and help Telly rebuild the mural on the walls of the Lost City.
Guide Grover's assistant, Clammie, through the rooms in the shipwreck to reach the treasure.
External links
Ad blocker interference detected!
Wikia is a free-to-use site that makes money from advertising. We have a modified experience for viewers using ad blockers

Wikia is not accessible if you've made further modifications. Remove the custom ad blocker rule(s) and the page will load as expected.