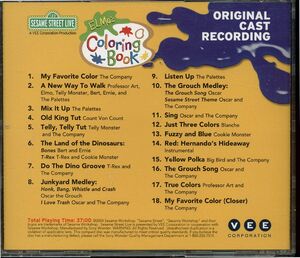 Elmo's Coloring Book is the soundtrack for the Sesame Street Live show of the same name.
Track listing
My Favorite Color
Mix It Up
Old King Tut
The Land of the Dinosaurs
Do the Dino Groove
Junk Yard Medley (Honk, Bang, Whistle and Crash)/(I Love Trash)
Listen Up
The Grouch Medley (The Grouch Song)/(Sesame Street Theme)
Red: Hernando's Hidaway
Yellow Polka
My Favorite Color (Closer)
Other releases
60221ECB (Sony Wonder, VEE Corporation CD, 2004)
Ad blocker interference detected!
Wikia is a free-to-use site that makes money from advertising. We have a modified experience for viewers using ad blockers

Wikia is not accessible if you've made further modifications. Remove the custom ad blocker rule(s) and the page will load as expected.