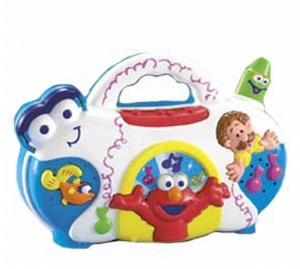 The Elmo's World Boom Box from Fisher-Price is an anthropomorphized stereo, with blinking eyes and a smiling crayon antennae. The Elmo's World characters adorning the toy include Dorothy, Elmo himself, and a Mr. Noodle (most closely resembling Mr. Noodle's brother Mr. Noodle). The boom box's audio selections include Elmo's voice, sound effects, and six songs.
Ad blocker interference detected!
Wikia is a free-to-use site that makes money from advertising. We have a modified experience for viewers using ad blockers

Wikia is not accessible if you've made further modifications. Remove the custom ad blocker rule(s) and the page will load as expected.