Ad blocker interference detected!
Wikia is a free-to-use site that makes money from advertising. We have a modified experience for viewers using ad blockers

Wikia is not accessible if you've made further modifications. Remove the custom ad blocker rule(s) and the page will load as expected.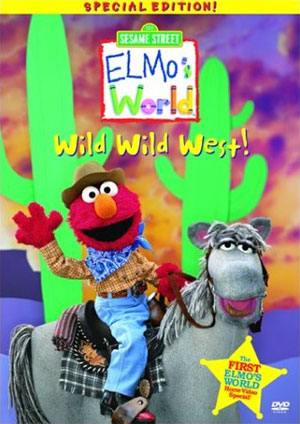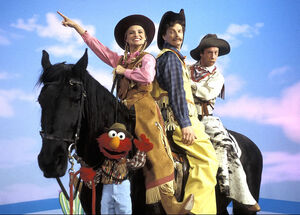 Elmo's World: The Wild Wild West is a 2001 Sesame Street direct-to-video special -- a one-hour episode of Elmo's World in which Elmo and Dorothy learn about the Old West. The special includes guest appearances by Marshal Grover, the Noodle Family, the Twiddlebugs and country singer guest star Travis Tritt.
Releases
DVD contents
DVD chapters
Intro
Guess What Elmo's Thinking About Today
Happy Trails Song
The Noodles Ride a Horse
Ask How They Ride Horses in the Wild Wild West
Elmo Has a Question for You
How Did People Go Places in the Wild Wild West
Learn About Elmo's Friend Maria's Horse
Grover Sends Elmo a Square-Dancing Email
Learn the Noodles Wild Wild West Dance
Watch the Wild Wild West Channel
She'll Be Coming Around the Mountain
Cowboy Elmo Rides a Horse
Cowboy Elmo Gives Horsey a Bath
Home on the Range
Travis Tritt Tells the Story of Pecos Bill
Wild Wild West Song
Bonus features
Cast
Special Guest Star
Credits
Executive Producer: Arlene Sherman
Co-Executive Producer: Kevin Clash
Director: Ted May, Victor DiNapoli (Arizona portion)
Segment Director: Jim Martin
Supervising Producer: Carol-Lynn Parente
Producer: Melissa Dino
Coordinating Producer: Karen Ialacci
Writers: Molly Boylan, Judy Freudberg
Associate Producer: Tim Carter
Associate Director: Ken Diego
Music Director: Mike Renzi
Music Coordinator: Danny Epstein
Production Designer: Victor DiNapoli
Graphic Artists: Mike Pantuso, Pete Ortiz
Set Decorator: Nat Mongioi
Technical Director: Tom Guadarrama
Sound Effects: Dick Maitland
Audio: Blake Norton, Carla Bandini-Lory
Cameras: Frank Biondo, Jerry Cancel, Bob Hagerty, Jimmy O'Donnell
Animations: Jane Aaron, Joey Ahlbum, Celefex
Live Action Films: Skip Blumberg, Jim Brown, Josh Selig, Little Airplane Productions, Inc.
Executive Producer for Home Video: Karin Young Shiel
Executive in Charge of Production for Sesame Workshop: Jodi Nussbaum
Taped at Kaufman Astoria Studios in New York
External links