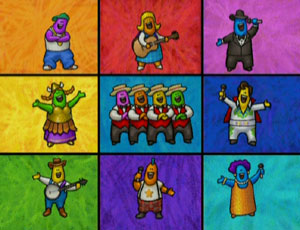 | Picture | Segment | Description |
| --- | --- | --- |
| | Guess what Elmo's thinking about today? | Elmo opens his (singing) door to a chorus of kids singing the "Elmo's World Theme." The following film includes kids singing "Sing," and "The Alphabet Song," "Happy Birthday to You," a mother singing to a baby "Brahms' Lullaby," and a boy singing the final lyric of the "Elmo's World Theme". |
| | Dorothy's Question | Dorothy wants to know how you sing. |
| | The Noodle Family | Mr. Noodle's brother Mr. Noodle cackles like a rooster, moos like a cow, gargles, and quacks like a duck before he lip-syncs to "La donna è mobile" of Giuseppi Verdi's Rigoletto from a radio player. |
| | Kids and Baby | Three kids sing "Row, Row, Row Your Boat" as a round. |
| | Elmo's Question | Elmo counts pigs in a barbershop quartet singing "Sweet Adeline." |
| | Quiz | What sings and what doesn't?  Ernie and Rubber Duckie appear to sing a verse of "Rubber Duckie." The original album recording with Jim Henson as Ernie is used here. After the quiz, the pigs in a barbershop quartet resumed singing. |
| | Film | Elmo's friend Samantha learns how to participate in a playground-style hand-clapping/singing game. |
| | TV Cartoon | The Singing Channel features the Lecture Lady singing "The Itsy Bitsy Spider." After the song, the spider sings "I'm a Little Teapot" with her. Stay tuned for Singing in the Rain. |
| | Interview | Elmo sings to opera singer Diva D'Abruzzo who illustrates that she can sing high, low, fast and slow. They sing in an opera style. |
| | Tickle Me Land | Dorothy imagines Elmo as The Three Elmos, Elvis Presley and a rapper. |
| | Home video | Big Bird sings a lullaby to his teddy bear Radar. Elmo drowsily turns to the camera and yawns. In fact, Elmo right now falls asleep on the TV when he is watching this! |
Trivia
The recording of "La donna e mobile" that Mr. Noodle lip-syncs to is from the 1971 performance of Giuseppi Verdi's Rigoletto. A co-production of the Ambrosian Opera Chorus and the London Symphony Orchestra and Chorus, this particular recording was conducted by Richard Bonynge - the husband of the opera's lead soprano Joan Sutherland who shared stage time with its tenor Luciano Pavarotti as the Duke of Mantua, whom Mr. Noodle is pretending to sing as. It can be found here.
Ad blocker interference detected!
Wikia is a free-to-use site that makes money from advertising. We have a modified experience for viewers using ad blockers

Wikia is not accessible if you've made further modifications. Remove the custom ad blocker rule(s) and the page will load as expected.