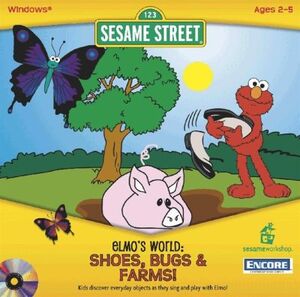 Elmo's World: Shoes, Bugs & Farms! is a Sesame Street CD-ROM game for home computers developed by Encore Software and Sesame Workshop. Elmo and Dorothy help the user learn about different kinds of shoes and bugs, and what happens on farms.
Contents
"Mystery Shoe": Put the shoes back onto the shoe rack
"Piano": Play and sing with Elmo.
"Anthill Maze": Help the little ant through the maze to the food.
"Dorothy": See what Dorothy is imagining
"Computer": Read email or watch videos.
"Old MacDonald's Farm": Help Elmo find the farm animals while he sings.