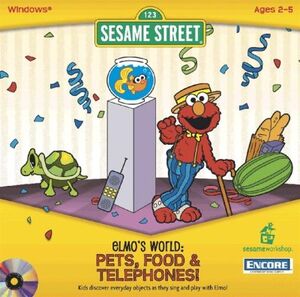 Elmo's World: Pets, Food & Telephones is a Sesame Street CD-ROM game for home computers developed by Encore Software and Sesame Workshop. Elmo and Dorothy guide the user to learn about different types of pets, food, and telephones in this game set in Elmo's playroom.
Contents
"Where's Telly": Help Telly find his way back to Elmo's World using sounds.
"Shade": Check in on Mr. Noodle.
"Guess the Food": Identify food for Cookie Monster.
"Dorothy": Watch what Dorothy is imagining.
"Computer": Read email and watch videos
"Pet's Circus": Sort the pets by size, color, or type.
Ad blocker interference detected!
Wikia is a free-to-use site that makes money from advertising. We have a modified experience for viewers using ad blockers

Wikia is not accessible if you've made further modifications. Remove the custom ad blocker rule(s) and the page will load as expected.