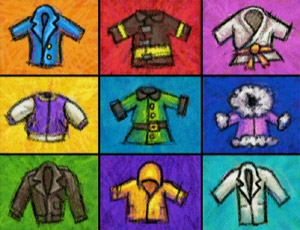 | Picture | Segment | Description |
| --- | --- | --- |
| | Guess what Elmo's thinking about today? | Elmo opens his door and gets covered in jackets. |
| | Dorothy's Question | Dorothy wants to know how you put on a jacket. |
| | The Noodle Family | Mr. Noodle struggles with how to correctly put on a jacket. |
| | Kids and Baby | Several kids have just learned how to put on and button up their jackets. |
| | Elmo's Question | Elmo counts the jackets in a jacket parade. |
| | Quiz | Elmo tells the audience who wears jackets and who doesn't. Tricycles don't, but a kid riding one could. Hot dogs don't - they wear buns. Chairs don't, even though they have arms. The Two-Headed Monster wears a two-headed hoodie. |
| | Film | Elmo's friend Eric put on his jacket one time. Stinky the Stinkweed makes an appearance superimposed into the picture at the end. |
| | TV Cartoon | "Famous Jackets in Nursery Rhymes": Jacket Be Nimble, Jacket and Jill, Little Jacket Horner. Stay tuned for Jacket Nicholson in Five Easy Jackets. |
| | Interview | Elmo talks to some jackets. |
| | Tickle Me Land | Dorothy imagines Elmo wearing a motorcycle jacket. |
| | Home Video | "What Jackets Do When They Get Dirty." |
Ad blocker interference detected!
Wikia is a free-to-use site that makes money from advertising. We have a modified experience for viewers using ad blockers

Wikia is not accessible if you've made further modifications. Remove the custom ad blocker rule(s) and the page will load as expected.