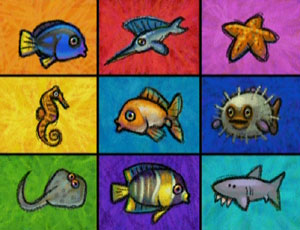 | Picture | Segment | Description |
| --- | --- | --- |
| | Guess what Elmo's thinking about today? | Elmo's room fills up with water and he swims with Muppet fish. A montage of fish in various settings and children with fish crafts and toys plays. |
| | Dorothy's Question | Dorothy has a swordfish decoration in her fish bowl. She says she knows a lot about fish because she is one and wants to know how non-fish creatures pretend to be a fish. |
| | The Noodle Family | Mr. Noodle's brother Mr. Noodle pretends to be a dog, a chicken, and a fish; he gets drenched with water. |
| | Kids and Baby | Kids show how they pretend to be a fish. Elmo asks a baby with a plush fish. |
| | Elmo's Question | Elmo asks the viewer to help him count a series of CGI fish. |
| | Quiz | Elmo asks questions about where fish live. Dorothy the Goldfish and Elmo appear in an answer. |
| | Video E-Mail | Telly Monster has a new fish that looks just like him. |
| | Film | Elmo's friend Brandon and his dad go to an aquarium, Atlantis Marine World in Riverhead, NY. |
| | TV Cartoon | The Fish Channel shows Bubbles Martin learning and singing about "How Do Fishes Move?". Stay tuned for Name That Tuna, Sixty Minnows, and Touched by an Angelfish. |
| | Interview | Elmo talks with fish. A Kingfish tells Elmo about things fish can do, like puff up, fly, or make their own light. |
| | Tickle Me Land | Dorothy imagines Elmo as a pufferfish, a flying fish and an angler fish. |
Ad blocker interference detected!
Wikia is a free-to-use site that makes money from advertising. We have a modified experience for viewers using ad blockers

Wikia is not accessible if you've made further modifications. Remove the custom ad blocker rule(s) and the page will load as expected.