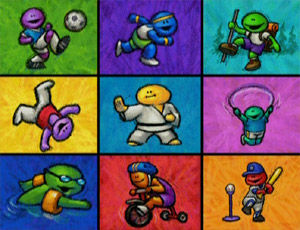 | Picture | Segment | Description |
| --- | --- | --- |
| | Guess what Elmo's thinking about today? | Elmo exercises around his room, then opens his door to a barrage of marathon runners. |
| | Dorothy's Question | Dorothy wants to know how people exercise. |
| | The Noodle Family | Mr. Noodle's brother Mr. Noodle moves his mustache, his finger and his ears before he's instructed to move all parts of his body to feel the burn of exercise. |
| | Kids and Baby | Kids play basketball, jump rope and run around to exercise. |
| | Elmo's Question | Elmo counts riders on a bicycle built for ten. |
| | Quiz | What exercises and what doesn't? Stinky the Stinkweed exercises by flexing the flower that comes out of his head. |
| | Film | Elmo's friend Tara exercises at the playground with her daddy. |
| | TV Cartoon | The Lecture Lady dances the bunny hop. Coming up next, "The Xcercie Files". |
| | Tickle Me Land | Dorothy imagines Elmo swimming, riding his tricycle, and playing tag with two other versions of himself. |
| | Home Video | "Big Bird's Teddy Bear Radar Exercises, by Elmo." |
Ad blocker interference detected!
Wikia is a free-to-use site that makes money from advertising. We have a modified experience for viewers using ad blockers

Wikia is not accessible if you've made further modifications. Remove the custom ad blocker rule(s) and the page will load as expected.