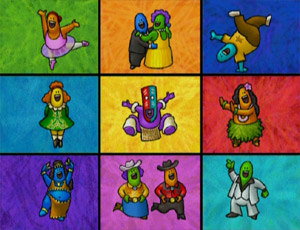 | Picture | Segment | Description |
| --- | --- | --- |
| | Guess what Elmo's thinking about today? | Elmo opens his door to a group of dancers dancing the can-can. |
| | Dorothy's Question | Dorothy wants to know how you dance. |
| | The Noodle Family | Mr. Noodle can't stop dancing. |
| | Kids and Baby | Kids show off various dancing styles and Elmo dances with a baby in a jumper. |
| | Elmo's Question | Elmo counts elephants dancing on a truck. |
| | Quiz | Elmo tells the audience who can dance and who can't. Mailboxes can't, but Elmo can dance while mailing a letter. Birthday cakes can't, but Elmo can dance at a birthday party. Telephones can't, but Elmo can dance while talking on the phone. Trash cans can't. Unless it's Oscar's trash can. |
| | Film | Elmo's friends Victor and Shelby learn how to tap dance. |
| | TV Cartoon | The Lecture Lady dances The Hokey Pokey. Stay tuned for "Let's Flamenco & Other Dances". |
| | Tickle Me Land | Dorothy imagines Elmo as a flamenco dancer, a hula dancer and as himself doing the Twirl Around and Fall Down Dance. |
| | Home Video | "Elmo's Friend Zoe Does Her Happy Dance." |
Ad blocker interference detected!
Wikia is a free-to-use site that makes money from advertising. We have a modified experience for viewers using ad blockers

Wikia is not accessible if you've made further modifications. Remove the custom ad blocker rule(s) and the page will load as expected.