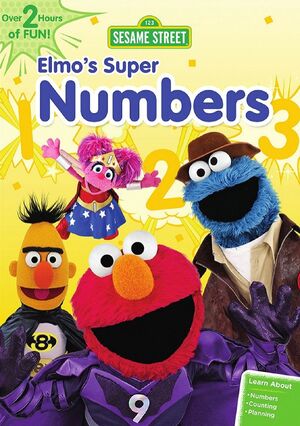 | | |
| --- | --- |
| Release Date | October 7, 2014 |
| Produced by | Warner Home Video |
| Catalogue no. | SS00353 |
| Format | DVD |
| Discs | 1 |
| Region | 1 |
| ASIN | |
Elmo's Super Numbers is a Sesame Street DVD released in 2014.
The DVD's main feature is the street story "Numeric Con," intercut with various inserts and with new scenes not seen in the broadcast version, including one featuring Abby Cadabby dressed as "One-da Woman."
Bonus features include "The Furry Four" street story, "Elmo the Musical: President," The Word of the Day: Respect with Henry Cavill, and a full-length video - Elmo's Shape Adventure.
Segments
Cartoon: I'm One Too
Cartoon: Number 1 and Only
Song: "We're Talking 'Bout the Number One"
Film: Yoga #1
Carton: Salty and Pierre #2
Animation: Counting eggs, chicks, pine cones, butterflys, and kids by twos
Song: "Two, Me and You"
Film: Three yellow birds, red mushrooms, and frogs
Animation: Kids count three jellyfish, loops, comets, and fire works
Song: "Okay, We Got a Hip-Hop Beat" #3
Animation: "Three is My Favorite Number"
Cartoon: Cuatro gatos
Film: Four beatboxers
Cartoon: A girl blows four bubbles
Cartoon: Construction equipment builds a four
Cartoon: Five dogs
The Rainbow Fish counts 5 in the ocean.
Song: "Five Kangaroos"
Film: Kids in the woods see the number 6
Film: Dancers in the park count to six
Animation: A chef makes six burgers
Film/Cartoon: Seven abstract animated creatures from out from hiding on a street for a seventh birthday.
Cartoon: Seven steps are drawn for hop scotch
Cartoon: Seven construction vehicles
Film: A girl counts eight people in her family
Cartoon: 8 apples in a tree
Film: Milo Counting #8
Film: Dancers count to 8
Cartoon:: Nine dancers form a number 9
Cartoon: Submarine Number 9
Cartoon: Nine pigeons
Cartoon: A dog licks ten kids
Animation: A butterfly counts ten petals
Cartoon: Ten Water Skiing Hippos
Animation: "Ten Turtles" (remake)
Ad blocker interference detected!
Wikia is a free-to-use site that makes money from advertising. We have a modified experience for viewers using ad blockers

Wikia is not accessible if you've made further modifications. Remove the custom ad blocker rule(s) and the page will load as expected.