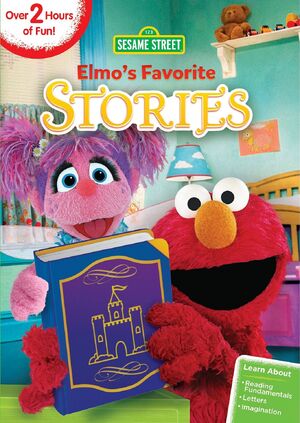 Elmo's Favorite Stories is a Sesame Street DVD released on July 5, 2016.
The DVD features 7 street stories, including "Maria the Cowgirl," "Elmo Wants to Be Like Gordon," "The Princess Story," "The Planet G," "Mi Amiguita Rosita", "Abby Thinks Oscar is a Prince" and "Every Plant That Ever Was."
Bonus features include the full-length video, Elmo's Musical Adventure: Peter and the Wolf, and an animated storybook of Rise and Shine!
See also
Ad blocker interference detected!
Wikia is a free-to-use site that makes money from advertising. We have a modified experience for viewers using ad blockers

Wikia is not accessible if you've made further modifications. Remove the custom ad blocker rule(s) and the page will load as expected.