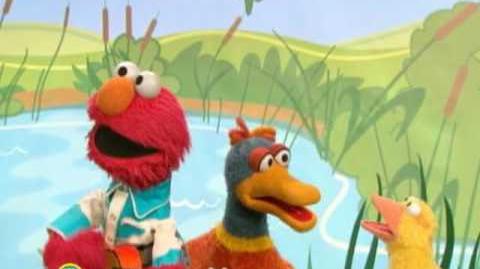 To the tune like that of "Down By the Bay", Elmo sings "Elmo's Ducks" with four ducks. During each verse, one duck is subtracted until there are none. Elmo feels sad about having no ducks, until he hears a "quack" and he finds his ducks have returned!
The song was nominated for a 2009 Daytime Emmy Award in the category of "Outstanding Original Song - Childrens and Animation".
Puppeteers for this song included Kevin Clash (Elmo), Paul McGinnis (assistant to Elmo), Martin P. Robinson (the first duck), Tyler Bunch (the second), Matt Vogel (the third) and David Rudman (the fourth).
Releases
Video
Online
Other
Ad blocker interference detected!
Wikia is a free-to-use site that makes money from advertising. We have a modified experience for viewers using ad blockers

Wikia is not accessible if you've made further modifications. Remove the custom ad blocker rule(s) and the page will load as expected.