Release Date
August 14, 2012
Produced by
Warner Home Video
Catalogue no.
SS00264
Format
DVD
Discs
1
Region
1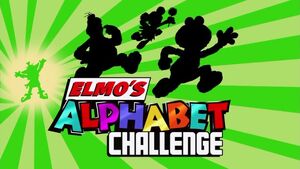 Elmo's Alphabet Challenge is a 50-minute Sesame Street DVD released in 2012. The DVD includes animated versions of the Sesame Street ABCs book series as a bonus feature.
Plot
Elmo and Telly Monster are playing basketball when Abby Cadabby shows them her new Fairy Fly Pad. They decide to play an alphabet game, which sends them into the Fairy Fly Pad. They meet A. B. C-more who tells them that in order to get out they have to find items beginning with each letter of the alphabet before A.B.C-more, who claims to be the greatest alphabet expert ever.
Throughout the challenge, A.B.C-more competes with either Abby or Elmo in parodies of a variety of video games, including Super Mario Bros., Angry Birds, Pac-Man, Guitar Hero, Just Dance, and Mario Kart. During the challenge, it becomes clear that A.B.C-more is not the alphabet expert he claims to be, constantly thinking that items don't begin with the letter they're focused on, and mistakenly thinking items that don't do begin with those letters, while the others always succeed in finding the right items.
With only a few letters left, A.B.C-more puts them in the hardest game in the challenge, a parody of World of Warcraft. Since it's the hardest part of the challenge, A.B.C-more decides to let all three play, but Telly, who had avoided playing all other parts of the challenge, avoids playing this one as well. A.B.C-more zaps Elmo and Abby with X's, saying that the only way to stop it is to find some X items. At this point Telly decides to finally join in the game, throwing an x-ray machine and xylophone at the Xs.
When they get to the letter Z, Telly finds a zucchnni on the ground. After initially struggling to pick it off the vine, Telly finally picks it and they win the game. A.B.C-more is impressed that they are better alphabet experts than he is, but Abby points out that they got a lot of practice on Sesame Street. A.B.C-more sends them back home, and even decides to visit their world. At first he wants to return home after a short while, but then they point out all the letters he can find on Sesame Street.
Official product description
"

Are you up for a challenge? An Alphabet Challenge? In this all new never before seen DVD, join Sesame Street friends Elmo, Abby and Telly on an amazing learning adventure! Abby is excited to show her friends her new Fairy Fly Pad, a magical tablet loaded with cool games. But with a simple tap they accidentally get trapped inside the video game world of A. B. C-more, a mischievous elf obsessed with the alphabet. In order to get back to Sesame Street, the friends must defeat A. B. C-more in different video game challenges that test their knowledge of the entire alphabet. Kids will love to play along and learn in a series of fun video game spoofs that will teach both letter recognition and sounds in a fun and entertaining way. Employing many familiar conventions of video games in a cool animated world, you have never seen Elmo, Abby and Telly like this before! Can Elmo "munch" his way through a maze like game where he must find objects that start with certain sounds? What happens when the friends encounter some letters from "angry words"? Can Elmo dance his way through a game where his moves need to match movements that start with certain letters? Will Abby be a "hero" as she rocks out with a guitar in another game? With 7 challenging games to play the friends will discover it is not as easy as ABC to win against A. B. C-more!

"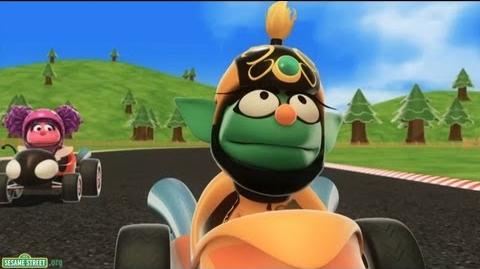 Credits
External links
Ad blocker interference detected!
Wikia is a free-to-use site that makes money from advertising. We have a modified experience for viewers using ad blockers

Wikia is not accessible if you've made further modifications. Remove the custom ad blocker rule(s) and the page will load as expected.