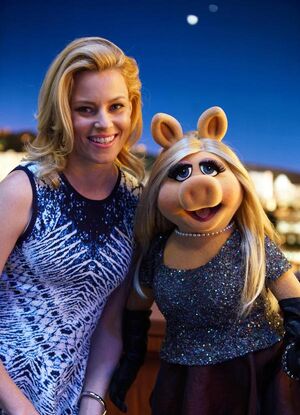 Elizabeth Banks (b. 1974) is an American actress, producer, and director. She has appeared in Sam Raimi's Spider-Man trilogy, The 40-Year-Old Virgin (with Steve Carell), The Hunger Games movies, The Lego Movie, and recurring roles on 30 Rock, Scrubs, and Modern Family.
Banks made a cameo appearance as herself in the presentation pilot for the 2015 series The Muppets. Banks attends a meeting with the Muppets, suggesting that they include cameo appearances in their new show. Banks also appears as a celebrity guest on Up Late with Miss Piggy in the pilot episode of the series.
Banks appeared in the 2017 Sesame Street special, The Magical Wand Chase as the voice of an animated bird who turns into a Muppet elephant. The bird also turns into a human, with Banks in her physical form.
Ad blocker interference detected!
Wikia is a free-to-use site that makes money from advertising. We have a modified experience for viewers using ad blockers

Wikia is not accessible if you've made further modifications. Remove the custom ad blocker rule(s) and the page will load as expected.