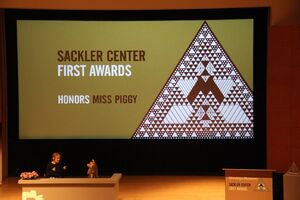 On June 4, 2015, the Elizabeth A. Sackler Center for Feminist Art at the Brooklyn Museum presented the Sackler Center First Award to Miss Piggy; Kermit the Frog also appeared.
The event was attended by Gloria Steinem, who also participated in the ceremony and appeared alongside Piggy during press interviews, as well as Lea DeLaria, and Elizabeth Sackler who presented the award.
The award was created to honor women who have made major cultural contributions. Past honorees include Supreme Court Justice Sandra Day O'Connor, journalist Connie Chung, author Toni Morrison, theater director Julie Taymor (1983 Henson Foundation grant recipient), and attorney Anita Hill.
External links
Ad blocker interference detected!
Wikia is a free-to-use site that makes money from advertising. We have a modified experience for viewers using ad blockers

Wikia is not accessible if you've made further modifications. Remove the custom ad blocker rule(s) and the page will load as expected.