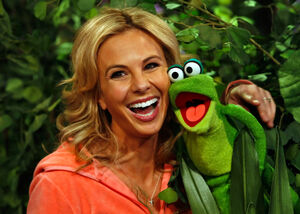 Elisabeth Hasselbeck (b. 1977) is a Emmy Award-winning American television personality. Hasselbeck was a contestant on Survivor: The Australian Outback in 2001, acted as co-host of The View from 2003 to 2013, and is currently a co-host on the FOX News program Fox & Friends.
Hasselbeck appeared in Season 40 of Sesame Street with a frog, to discuss "camouflage" as The Word of the Day.
External links
Ad blocker interference detected!
Wikia is a free-to-use site that makes money from advertising. We have a modified experience for viewers using ad blockers

Wikia is not accessible if you've made further modifications. Remove the custom ad blocker rule(s) and the page will load as expected.