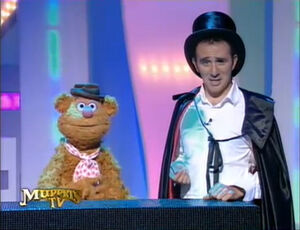 Élie Semoun (b. 1963) is a French singer. He was the guest star, along with Bob Sinclar, on "Muppets TV" Episode 2, which was broadcast on TF1 at 5:30PM on Sunday, November 5, 2006.
He started his career on stage with Dieudonne. In September 2003, he released his first album as a singer and lyricist, entitled "Songs", which heavily influenced bossa nova. He is a cousin of actor/singer Patrick Bruel.
Ad blocker interference detected!
Wikia is a free-to-use site that makes money from advertising. We have a modified experience for viewers using ad blockers

Wikia is not accessible if you've made further modifications. Remove the custom ad blocker rule(s) and the page will load as expected.