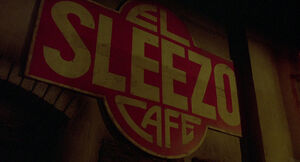 The El Sleezo Cafe is a rough dive featured in The Muppet Movie. An establishment so unruly even the owner is thrown out, the food at the El Sleezo includes variations on frog legs. The clientele is a motley collection of bikers, sailors, lumberjacks, cowboys, one-eyed midgets, and other tough customers. Entertainment, while normally supplied by the El Sleezo Cuties, is provided by Fozzie Bear with accompaniment provided by a piano player on the night that Kermit visits.
The word "Café" is typically written with an accent over the e, but the management of the El Sleezo has no time for such refinements.
Ad blocker interference detected!
Wikia is a free-to-use site that makes money from advertising. We have a modified experience for viewers using ad blockers

Wikia is not accessible if you've made further modifications. Remove the custom ad blocker rule(s) and the page will load as expected.