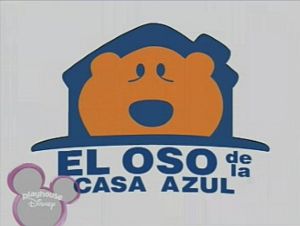 El Oso de la Casa Azul is the Castilian Spanish dub of Bear in the Big Blue House, airing on Spain's version of The Disney Channel and on network TVC.
Character Translations and Voices
Credits
Dubbing Studio: Abaira (Madrid)
Dubbing Directors/Editors: Rafael Alonso Naranjo Jr., José Padilla
Translator: María Sahagún
Ad blocker interference detected!
Wikia is a free-to-use site that makes money from advertising. We have a modified experience for viewers using ad blockers

Wikia is not accessible if you've made further modifications. Remove the custom ad blocker rule(s) and the page will load as expected.