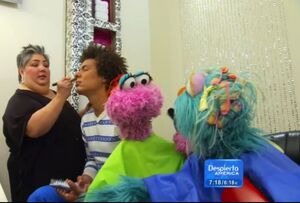 El Chavo del Ocho (often simply titled El Chavo) is a popular Mexican sitcom created by and starring comedian Roberto Gómez Bolaños (better known as Chesperito). It focused on the residents of a lower income neighborhood, especially the orphan kid El Chavo (Chesperito), with all child roles played by adult comedians.
Initially a sketch created in 1971 (with the "del Ocho" stemming from the station the show was then on), it ran as a half hour sitcom until 1980, and later returned as a segment on Chesperito's longer variety show. An animated version began in 2006.
References
In a July 12, 2013 guest appearance on Despierta América, Rosita, Lola, and Mando are having their hair done in the studio. Rosita suggests that with curlers in her fur, she resembles Doña Florinda (one of the main characters, who perpetually wore hair curlers and an apron).
Connections