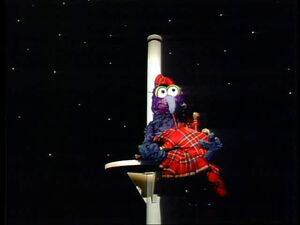 "Eine kleine Nachtmusik" is one of the most famous compositions by Wolfgang Amadeus Mozart. The title, translated in English as "a little night music," was written as a serenade for strings in G major, and thus has also been called "a little serenade."
Gonzo performs the piece on bagpipes while sitting on a flagpole which is chewed down by a beaver in episode 217 of The Muppet Show.
It is also performed on the Grammy Award-winning album Elmo and the Orchestra.
In the Sesamstrasse episode 2324, Wolle imagined how Mozart came up with the name "Eine kleine Nachtmusik".
Video releases