thumb|300px|Eine Möhre für Zwei opening credits.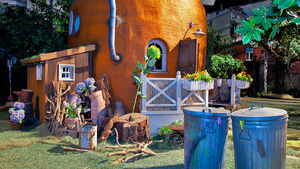 Eine Möhre für Zwei (A Carrot for Two) is a Sesamstrasse spin-off starring the comedy duo Wolle and Pferd, that debuted in 2010. The new 12-minute mini-series features the two characters living in a giant, yet cozy carrot-home growing in a Hamburg backyard, with a different theme for each episode. Recurring characters include Finchen, a green wolf, and a talking toilet named Günni.
The show's theme song is sung by the German singer Nena, of "99 Red Balloons" fame. The episodes are directed by the regular Sesamstrasse directors Jojo Wolff and Dirk Nabersberg. Episodes are usually available to be watched online as well, and remain so for 30 days after they air (or re-air).[1]
The first season, consistig of 26 episodes, finished filming in July and debuted on October 23, 2010, on KI.KA. As side characters, it featured three crazy chickens. A human friend to the duo, explaining the world around them, was played by Wolke Hegenbarth.
A second season was produced in 2011, adding another 26 episodes to the lineup. Filming wrapped up in July, while the episodes debuted in October on KI.KA, showing two episodes back to back. For the second season, the reappearing chickens were replaced by pigs. Special guests this season included Bert and Ernie.
The third season began production in February of 2012. As far as side characters go, season three features female donkey Marie, as well as a rabbit and several woodland critters such as a squirrel, a raccoon, and a woodpecker. Bert and Ernie will also make another appearance. The season will debut on October 16, 2012, airing the first 13 episodes, with the second half to follow in March/April of 2013.
Gallery
Cast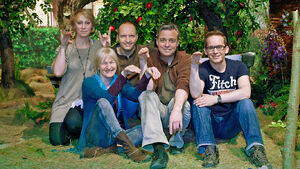 Muppets
Recurring Humans
Guest Stars
Writers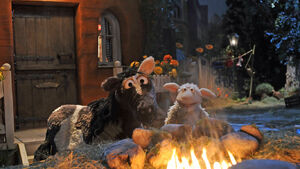 Katja v. Lier
Nicholas Hause
Tordis Pohl
Marc Hotz
Thomas Möller
E. Bickenbach
See also
Sources
↑ Eine Möhre für Zwei episodes (videos remain active for 30 days after episodes air or re-air)
External links