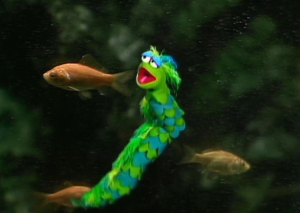 A green and blue eel appeared several times on The Muppet Show.
In addition to background appearances on episodes 116, 117, 122, and 312, the eel performed two solo numbers. Both were the UK Spots on their respective episodes.
In episode 124, the eel, performed by Jim Henson, sang "When I'm Not Near the Fish I Love." In episode 417, he was performed by Jerry Nelson and sang "Three Little Fishies."
Filmography
Ad blocker interference detected!
Wikia is a free-to-use site that makes money from advertising. We have a modified experience for viewers using ad blockers

Wikia is not accessible if you've made further modifications. Remove the custom ad blocker rule(s) and the page will load as expected.