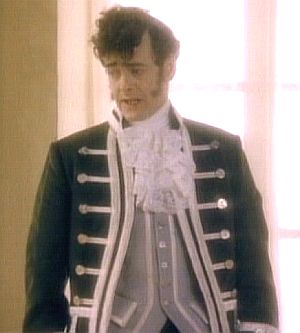 Edward Tudor-Pole (b. 1955), also known as Eddie Tenpole, is a singer and actor who appeared in The StoryTeller episode "Sapsorrow" as a page, ushering in maidens to try on the slipper.
Tudor-Pole fronted his own punk band, Tenpole Tudor, in the 1970s, and appeared in several rock and punk inspired films, including The Great Rock 'n' Roll Swindle, Absolute Beginners (with David Bowie), and Sid and Nancy. Other film credits include White Hunter Black Heart (with Clint Eastwood), Princess Caraboo, Les Misérables (with Liam Neeson), Quills, and The Life and Death of Peter Sellers (as Spike Milligan).
External links
Ad blocker interference detected!
Wikia is a free-to-use site that makes money from advertising. We have a modified experience for viewers using ad blockers

Wikia is not accessible if you've made further modifications. Remove the custom ad blocker rule(s) and the page will load as expected.