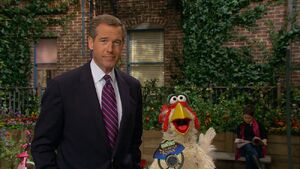 Edward R. Murrow (1908-1965) was an American broadcast journalist. A pioneer of television news broadcasting, Murrow is best remembered for his television series Person to Person and See It Now, and for his series of news reports on Senator Joseph McCarthy.
References
Episode 4181 of Sesame Street features a nod to Murrow when a chicken signs off his newscast with "Good night, and good cluck," a play on Murrow's signature sign off of "Good night, and good luck."
Ad blocker interference detected!
Wikia is a free-to-use site that makes money from advertising. We have a modified experience for viewers using ad blockers

Wikia is not accessible if you've made further modifications. Remove the custom ad blocker rule(s) and the page will load as expected.