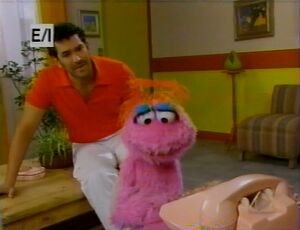 Eduardo Santamarina (b. 1968) is a Mexican film, theater, and television actor, best known for his roles on telenovas.
He appeared in episodio 841 of Plaza Sésamo in the telenovela spoof "Los Monstruos También Lloran", where he hears Lola's cries and tries to find out what's wrong with her phone.
External links
Ad blocker interference detected!
Wikia is a free-to-use site that makes money from advertising. We have a modified experience for viewers using ad blockers

Wikia is not accessible if you've made further modifications. Remove the custom ad blocker rule(s) and the page will load as expected.