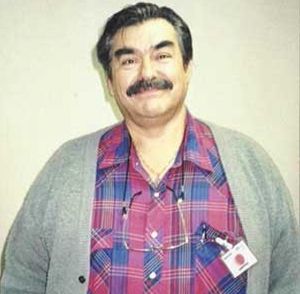 Eduardo Borja (1943-2001) was a Mexican voice actor who dubbed Mr. Snuffleupagus on Plaza Sésamo, the Gryphon in Alice in Wonderland, Dr. Teeth in Los Muppets Toman Nueva York, and Vortigern's architect and a guard in Merlin.
Borja appeared occasionally in Mexican film and television, but his deep voice most often lent itself to dubbing, beginning with the voice of God in The Ten Commandments. Subsequent roles included Wilt Chamberlain in Conan the Destroyer, Alun Armstrong in The Saint, Richard Griffiths in The Naked Gun 2 ½: The Smell of Fear, Mike Myers as the Fat Bastard in Austin Powers: The Spy Who Shagged Me, and Boss Nass in Star Wars Episode 1: The Phantom Menace.
Animation credits include Chief Wiggum on The Simpsons, Dr. Zarkov in the 1990s version of Flash Gordon, Ming the Merciless on Defenders of the Earth, Burne Thompson on Teenage Mutant Ninja Turtles, Rhino on Spider-Man, the Magic Mirror in Disney's Snow White and the Seven Dwarfs, and Dim in Pixar's A Bug's Life.
External links
Ad blocker interference detected!
Wikia is a free-to-use site that makes money from advertising. We have a modified experience for viewers using ad blockers

Wikia is not accessible if you've made further modifications. Remove the custom ad blocker rule(s) and the page will load as expected.