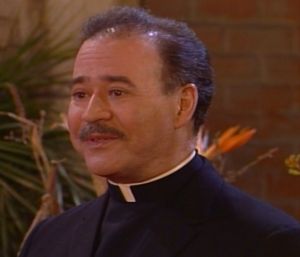 Edouard DeSoto (b. 1941) is a Puerto Rican actor who appeared in the 1988 season finale of Sesame Street, as the priest who presided over Maria and Luis' wedding.[1]
A New York-based actor, DeSoto has guest starred on episodes of The Cosby Show, Law & Order (and Law & Order: Special Victims Unit), Kate & Allie, and Hill Street Blues. Film credits include Jumpin' Jack Flash (with Whoopi Goldberg), The Blue Diner, and Rooftops, while stage credits include a 1986 revival of Tennessee Williams' Summer and Smoke (opposite Christopher Reeve and Joe Ponazecki).
Sources
External links
Ad blocker interference detected!
Wikia is a free-to-use site that makes money from advertising. We have a modified experience for viewers using ad blockers

Wikia is not accessible if you've made further modifications. Remove the custom ad blocker rule(s) and the page will load as expected.