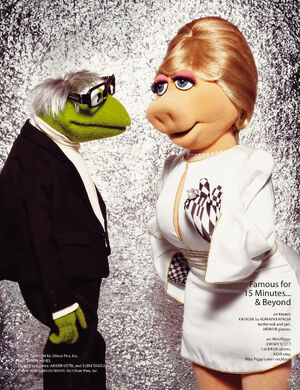 Edith Minturn "Edie" Sedgwick (1943–1971) was an American actress and fashion model, best known for being one of Andy Warhol's superstars, starring in several of Warhol's short films in the 1960s.
Sedgwick was spoofed by Miss Piggy in a photo shoot for Zink Magazine, photographed by Mike Ruiz in 2005, opposite Kermit the Frog as Andy Warhol.
She was the first cousin, once removed, of actress Kyra Sedgwick.
External links
Ad blocker interference detected!
Wikia is a free-to-use site that makes money from advertising. We have a modified experience for viewers using ad blockers

Wikia is not accessible if you've made further modifications. Remove the custom ad blocker rule(s) and the page will load as expected.