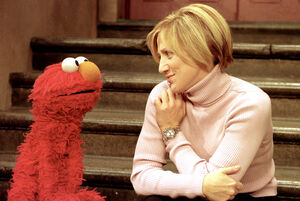 Edie Falco (b. 1963) is an actress who starred as Tony's wife Carmela on the HBO series The Sopranos. Falco appeared on Sesame Street Episode 3995, in an insert in which she hugs and comforts Elmo after he trips and hurts himself.
Falco's other TV credits include a regular role as Officer Diane Whittlesey on Oz (1997-2000) and a recurring guest roles on Law & Order (as attorney Sally Bell) and Homicide: Life on the Street (as Eva Thormann). Film credits include Bullets Over Broadway (with Jack Warden), Cop Land (with Sylvester Stallone), Sunshine State, and Freedomland.
External links
Ad blocker interference detected!
Wikia is a free-to-use site that makes money from advertising. We have a modified experience for viewers using ad blockers

Wikia is not accessible if you've made further modifications. Remove the custom ad blocker rule(s) and the page will load as expected.