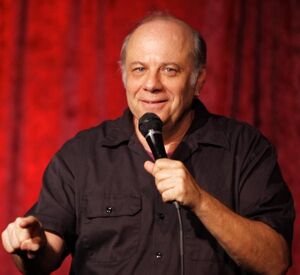 Eddie Pepitone (b. 1958) is an American actor and comedian who makes a small appearance as a Smalltown, USA postman in the 2011 feature film The Muppets. While a majority of his scenes were cut from the final film, he can be heard exclaiming "they're gone!" at the end of the "Life's a Happy Song" musical number. A fleeting rear shot of him (clearly not the same as the more visible dancer playing a postman) can be briefly glimpsed, trailing the parade of townsfolk.
He was a contestant on NBC's Last Comic Standing and he has had guest spots on Community, Conan, ER, Law & Order: Criminal Intent, Flight of the Conchords (with James Bobin and Bret McKenzie) and roles in movies like Old School (with Craig Kilborn and James Carville).
External links
Ad blocker interference detected!
Wikia is a free-to-use site that makes money from advertising. We have a modified experience for viewers using ad blockers

Wikia is not accessible if you've made further modifications. Remove the custom ad blocker rule(s) and the page will load as expected.