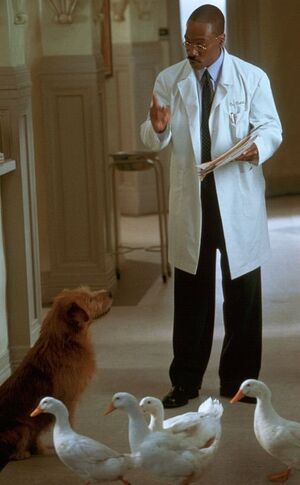 Eddie Murphy (b. 1961) is a comedian and Academy Award nominated actor who first came to national attention on Saturday Night Live. His films include Beverly Hills Cop, Trading Places and Shrek.
Murphy starred as Dr. John Dolittle in the 1998 film Dr. Dolittle, with creature effects by Jim Henson's Creature Shop. Other family films featuring Eddie Murphy (either vocally or in the flesh) include Daddy Day Care, The Haunted Mansion and Disney's Mulan.
In 1999, Murphy played the dual roles of Kit Ramsey and Jiffernson 'Jiff' Ramsey in Bowfinger, directed by Frank Oz.
External links
Ad blocker interference detected!
Wikia is a free-to-use site that makes money from advertising. We have a modified experience for viewers using ad blockers

Wikia is not accessible if you've made further modifications. Remove the custom ad blocker rule(s) and the page will load as expected.