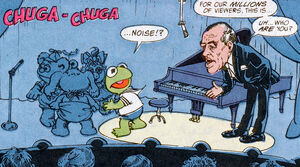 Ed Sullivan (1902-1974) was an American TV personality who emceed the weekly CBS series, The Ed Sullivan Show, from 1948 to 1971 (originally titled Toast of the Town). Sullivan helped Jim Henson gain greater national exposure by having him on as a recurring guest with the Muppets. They also collaborated on the Christmas TV special, The Great Santa Claus Switch, in 1970.
On the back cover of The Year of Roosevelt Franklin, Sullivan's review of the album is quoted among others.
References
See also
External links
Ad blocker interference detected!
Wikia is a free-to-use site that makes money from advertising. We have a modified experience for viewers using ad blockers

Wikia is not accessible if you've made further modifications. Remove the custom ad blocker rule(s) and the page will load as expected.