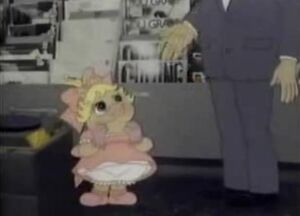 Ed McMahon (1923-2009) guest-starred on episode 205 of Muppets Tonight.
He was the announcer for The Tonight Show with Johnny Carson on which the Muppets appeared several times.
For years he was also the announcer on Jerry Lewis' MDA Telethon on which Johnny Fiama and Sal Minella have appeared.
On the back cover of The Year of Roosevelt Franklin, McMahon's review of the album is quoted among others.
Guy Smiley spoofed McMahon in the 1974 special Out to Lunch in a Tonight Show parody with Cookie Monster playing Carson.
The unmade Muppet television special Johnny Carson and the Muppet Machine was to have included a scene with a talking boulder bearing McMahon's image.
McMahon voices himself in the Muppet Babies episode "This Little Piggy Went to Hollywood," where he invites Baby Piggy to appear on Star Search.
Notes
External links
Ad blocker interference detected!
Wikia is a free-to-use site that makes money from advertising. We have a modified experience for viewers using ad blockers

Wikia is not accessible if you've made further modifications. Remove the custom ad blocker rule(s) and the page will load as expected.