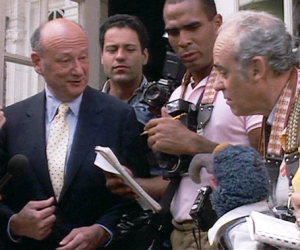 Ed Koch (1924-2013) was the Mayor of New York City from 1978 to 1989.
In 1981, Koch appeared at a NYC kids' neighborhood art contest ceremony with Big Bird.
In the Winter 1983 issue of Muppet Magazine, he appeared alongside Gonzo in the "Great Muppet Look-Alike Contest".
In 1984, he made a cameo appearance in The Muppets Take Manhattan as himself, billed as The Honorable Edward I. Koch. His scene was filmed on June 1, 1983.[1]
Later in June 1983, he appeared at an event with the Muppets at the Naumburg Bandshell in Central Park, photos from which are featured in the book New York Comes Back: The Mayoralty of Edward I. Koch.
Sources
↑

GettyImages
Ad blocker interference detected!
Wikia is a free-to-use site that makes money from advertising. We have a modified experience for viewers using ad blockers

Wikia is not accessible if you've made further modifications. Remove the custom ad blocker rule(s) and the page will load as expected.