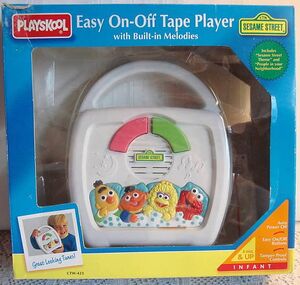 In 1994, Playskool released an Easy On-Off Tape Player featuring graphics and music from Sesame Street. Intended for children as young as 6 months old with "tamper-proof controls" and an auto shut-off feature, it has only two buttons; a green play and a red stop button. It functions as a traditional tape player, but also has two built-in songs: "Sesame Street Theme" and "People in Your Neighborhood". The front is decorated with a 3-dimensional picture of Bert, Ernie, Big Bird and Elmo, who appear to be snuggled in under a blanket together.
Ad blocker interference detected!
Wikia is a free-to-use site that makes money from advertising. We have a modified experience for viewers using ad blockers

Wikia is not accessible if you've made further modifications. Remove the custom ad blocker rule(s) and the page will load as expected.