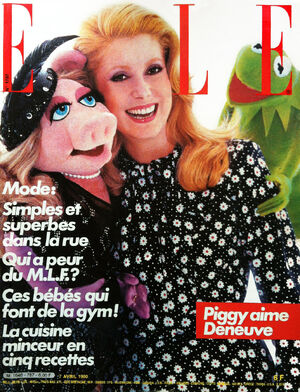 Elle is a worldwide magazine that focuses on women's fashion, beauty, health, and entertainment. It was founded in France in 1945.
Appearances
April 7, 1980 — Miss Piggy and Kermit the Frog appeared together with Catherine Deneuve on the cover of the French issue.
March 24-28, 2014 — Miss Piggy takes over the "fashion cupboard" for the week.[1]
March 27, 2014 — Kermit is named ELLE's "Man of the Week". [1]
April 4, 2014 — Piggy appears in a video shoot for her ELLE cover and steals a rack of dresses from the editor. [3]
August 11, 2014 — Kermit is interviewed by Justine Harman over mosquito mojitos for the feature, "Hot Guy/Cold Drink: Bug Juice and Jealous Exes with Kermit" [4]
Sources
↑ "Miss Piggy Takes Over the #ELLEfashioncupboard" fashioncupboard.elleuk.com by Phebe, March 21, 2014
Ad blocker interference detected!
Wikia is a free-to-use site that makes money from advertising. We have a modified experience for viewers using ad blockers

Wikia is not accessible if you've made further modifications. Remove the custom ad blocker rule(s) and the page will load as expected.