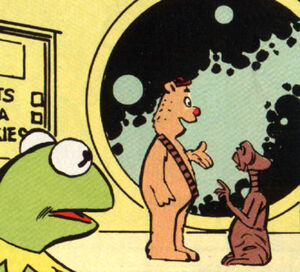 E.T. the Extra Terrestrial, Steven Spielberg's high-grossing 1982 film, included a clip from Sesame Street.
During a scene with E.T. and Gertie (played by Drew Barrymore), the show is playing on the TV long enough for two sketches to appear. The first is an animated film about the letter B that aids E.T. in learning how to speak. The second scene features Big Bird introducing Grover in the courtyard as he demonstrates two chin-ups (this scene has been released commercially on Old School: Volume 1 as an insert for Episode 0536). The audio that ends the scene, however, was taken from Episode 1364 to provide a more appropriate dialogue for the film: Big Bird observes a rocket ship and remarks, "I think it came from outer space," just as E.T. begins to communicate his desire to phone home.
Also, during a scene in which E.T. is reading a coloring book in the closet, a Bert toy can be seen hanging on the wall behind him.
The E.T. puppet also made an appearance in The Earth Day Special, as did the Muppets.
The 1995 McDonald's Happy Birthday Happy Meal series of connectable toys featured E.T. as well as Baby Kermit and Baby Piggy.
References
External links
Ad blocker interference detected!
Wikia is a free-to-use site that makes money from advertising. We have a modified experience for viewers using ad blockers

Wikia is not accessible if you've made further modifications. Remove the custom ad blocker rule(s) and the page will load as expected.