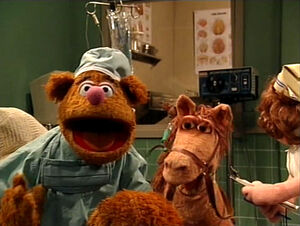 E-I-E-I-OR was a loose parody of the TV medical drama ER on Muppets Tonight, featuring a hospital full of silly doctors and their animal patients delivering a fast-paced barrage of jokes.
The sketch can be seen as an updated version of the classic Veterinarian's Hospital skits from The Muppet Show.
Among the doctors are Fozzie Bear, Dr. Pain, Afghan Hound, and Ernst Stavros Grouper.
Sketches
Ad blocker interference detected!
Wikia is a free-to-use site that makes money from advertising. We have a modified experience for viewers using ad blockers

Wikia is not accessible if you've made further modifications. Remove the custom ad blocker rule(s) and the page will load as expected.