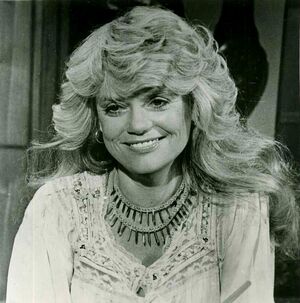 Dyan Cannon (b. 1937) is an Academy Award nominated actress who guest-starred on The Muppet Show episode 404.
Known more for comedic roles, Cannon received her first Academy nomination for Bob & Carol & Ted & Alice (with Elliott Gould), and another for Heaven Can Wait (with James Mason, Jack Warden, and Charles Grodin). More recently she has turned to television series, with roles on Three Sisters and Ally McBeal.
External links
Ad blocker interference detected!
Wikia is a free-to-use site that makes money from advertising. We have a modified experience for viewers using ad blockers

Wikia is not accessible if you've made further modifications. Remove the custom ad blocker rule(s) and the page will load as expected.