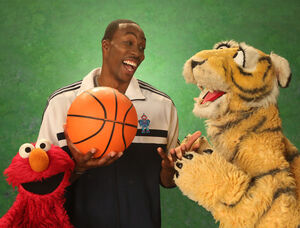 Dwight Howard (b. 1985) is an American professional basketball player who has played for the Orlando Magic and the Atlanta Hawks, amongst others.
Howard presents the word "strategy" with Elmo as the Word of the Day in a season 44 episode of Sesame Street, at which point he played for the Houston Rockets.
Ad blocker interference detected!
Wikia is a free-to-use site that makes money from advertising. We have a modified experience for viewers using ad blockers

Wikia is not accessible if you've made further modifications. Remove the custom ad blocker rule(s) and the page will load as expected.