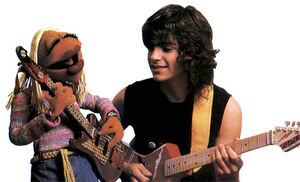 Dweezil Zappa (b. 1969) is a singer, actor, and son of Frank Zappa.
In 1983, he appeared with his sister Moon Zappa in Muppet Magazine issue 2. In 1998, he played John Kaplan in Jack Frost (with the title character created by Jim Henson's Creature Shop); the film also featured Zappa's brother Ahmet.
External links
Ad blocker interference detected!
Wikia is a free-to-use site that makes money from advertising. We have a modified experience for viewers using ad blockers

Wikia is not accessible if you've made further modifications. Remove the custom ad blocker rule(s) and the page will load as expected.