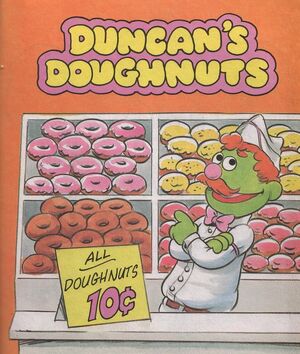 Dunkin' Donuts is the "world's largest coffee and baked goods chain." They are located in 30 countries worldwide.
The chain was referenced in the Sesame Street book A My Name Is Annabel as Duncan's Doughtnuts. Duncan, the store's proprietor makes and sells doughnuts for a dime apiece. He sports a mustache, much like Fred the Baker, Dunkin' Donuts' long-time commercial spokesman.
As of 2011, they became the sponsor of the Philadelphia Thanksgiving Day Parade.
External links