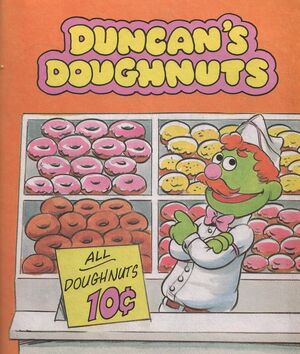 Dunkin' Donuts is the "world's largest coffee and baked goods chain." They are located in 30 countries worldwide. As of 2011, they became the sponsor of the Philadelphia Thanksgiving Day Parade.
References
The chain was referenced in the Sesame Street book A My Name Is Annabel as Duncan's Doughtnuts. Duncan, the store's proprietor makes and sells doughnuts for a dime apiece. He sports a mustache, much like Fred the Baker, Dunkin' Donuts' long-time commercial spokesman.
In the Shalom Sesame episode "Chanukah," Moishe Oofnik opens up a stand selling sufganiyot (jelly donuts), which he calls "Oofganiyot." His sign font is based directly on that used by Dunkin' Donuts since 1972.
External links
Ad blocker interference detected!
Wikia is a free-to-use site that makes money from advertising. We have a modified experience for viewers using ad blockers

Wikia is not accessible if you've made further modifications. Remove the custom ad blocker rule(s) and the page will load as expected.