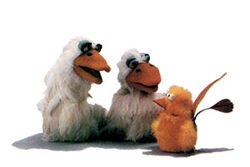 Ducks are a species of aquatic bird.
The Muppet Show
Various ducks appeared on The Muppet Show. One debuted in episode 113, while another one was made for episode 303. Ronald Duck was the name given to one of the fowl in episode 220.
Sesame Street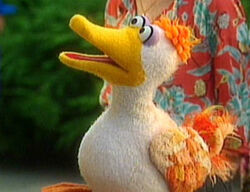 On Sesame Street, two different, more cartoonish ducks appeared regularly, beginning in the 1980s. One was a blue and orange duck, originally performed by Kevin Clash, the character was recently named Alfred Duck. Another duck who has been seen regularly is white, with orange hair and some orange features. In a Season 37 sketch, she revealed her name to be Jamie Foxx, not to be confused with the actor of the same name.
In Episode 4051, Telly dresses in his duck persona from Peter and the Wolf in order to care for a baby duckling. Rubber Duckie remains the best known Sesame Street duck, however.
Others
Bear in the Big Blue House features Harry the Duck, Hallie Duck, and Mama Duck.