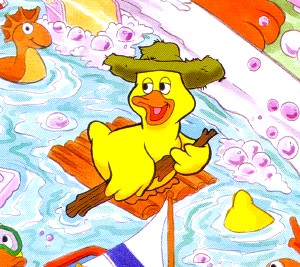 Duckleberry Swim is one of Rubber Duckie's duckie friends who comes to visit in the 2002 book Look and Find Elmo. Duckleberry wears a tattered straw hat and cheerfully steers his raft through the bubbles in Ernie's bathtub.
Rubber Duckie's other duckie friends include Lucky Duckie and Grubby Duckie.
Duckleberry's name is a reference to Huckleberry Finn, who appeared in Mark Twain's The Adventures of Tom Sawyer and Adventures of Huckleberry Finn.
Ad blocker interference detected!
Wikia is a free-to-use site that makes money from advertising. We have a modified experience for viewers using ad blockers

Wikia is not accessible if you've made further modifications. Remove the custom ad blocker rule(s) and the page will load as expected.