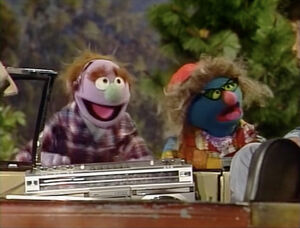 Duane and Ingrid are newlyweds who meet Maria and Luis on a camping trip in several 1988 episodes of Sesame Street.
In episode 2487, Maria and Luis are on their honeymoon, and they're stranded in the country because Oscar the Grouch's Sloppy Jalopy has broken down. Luckily, Duane and Ingrid are headed the same way, and are more than happy to give Maria and Luis (and their stuff) a lift over to the campsite, which happens to be right next to theirs. The chatty Ingrid is excited about having fun with her new friends. Later in that episode, at night, Ingrid insists that she and Duane help Maria and Luis set up camp, which is known as cooperation. Ingrid's duty is to change the tapes in Duane's Walkman. Ingrid and Duane invite Maria and Luis to go to the mall with them for some barbecued ribs, but Maria and Luis turns the offer down, since they'd rather be alone.
In the next episode, Maria and Luis are listening to the sounds of nature, like crickets, owls, and a stampede of elephants. The noise of the stampede of the elephants turns out to be Duane and Ingrid watching movies and they agree to use their headsets. Later in that episode, during Sonny Friendly's game show in the Adirondacks, Duane and Ingrid find five pairs of sunglasses, but five is not seventeen.
In the last episode of the week, Duane and Ingrid say goodbye to Maria and Luis, and present them with gifts that will help them remember their honeymoon: the rock with which they tried to open a can of beans, the unopened can of beans, a log from their first campfire, and the boot they fished out of the lake.
Duane is made from the Large Lavender Live Hand Anything Muppet pattern while Ingrid is made from the Fat Blue Anything Muppet pattern.