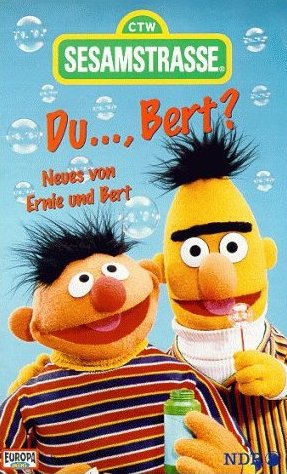 | | |
| --- | --- |
| Release Date | 2000 |
| Format | VHS |
Du..., Bert?: Neues von Ernie und Bert (You..., Bert?: News from Ernie and Bert) is a Sesamstrasse video released in 2000, compiling several songs and sketches from Sesamstrasse about Ernie and Bert.
Segments (incomplete)
Ernie refuses to take his turn to go for the newspaper. He tricks Bert into going to Hooper's Store in his place.
Bert has a present for his Aunt Matilda, but Ernie thinks that the present is for him, so he unwraps it.
Ernie's Barber Shop: Part 1: Ernie is a barber, and cuts all of Bert's hair off. Part 2: Ernie tries to disguise Bert until his hair grows back, but a monster (later known as Grover) mistakes Bert for his father. Part 3: Bert has grown his hair back, but now he talks like Cookie Monster.
Ernie comes from finishing his bath, and tells Bert that there's something that he forgot. Bert asks if he's washed behind his ears, his neck, and his elbows. Finally, Ernie remembers that he forgot to turn off the water in the tub -- as the water level rises.
Bert tells Ernie not to eat cookies in bed, because he might get crumbs in the bed. Ernie decides to eat cookies in Bert's bed instead.
Ernie and Bert plan to go to the zoo, but they can't make up their minds. What would happen if Ernie bought a balloon, but then lost it when he gets frightened by a buffalo? Then they remember that the zoo is closed on Wednesdays.
Ernie realizes that Bert's not home, and that he can do whatever he wants. He acts out a typical scenario in which he plays the radio loud and Bert tells him to turn it down ... but it doesn't feel the same without Bert around.
Ernie won't stop saying how thirsty he is, no matter how many glasses of water Bert brings him. Even after he's finished, he still won't stop saying "Boy, was I thirsty."